– DESALINATION METHODS –
Without water there could be no life on Earth. Water is more important than food to us.
Over three-quarters of our bodies is water and without it we cannot grow crops, run factories or keep clean. Nearly three-quarters of the earth's surface is water.
This, however, is  the undrinkable water in the oceans and seas. We cannot use this water because of the amount of minerals it contains. The world is living through a population explosion. In other words, there is a rapid growth in the number of people living on Earth.
Therefore, we have a problem: How can we get more water for man's  use? One way of doing this is to make sea water drinkable. Many scientists today are trying to find methods to change sea water into fresh water. There are three ways to take the salt from sea water. Scientists prefer  electrodialysis to desalt water with a small quantity of salt.
In this process , an electric charge passes through the salty water and separates the salt from the water. Another method of desalting is freezing. Ice is pure, or fresh, water. When sea water freezes, the salt separates from the water and then you  can wash it off. Finally, you have to melt the ice to use it as fresh water.
A very common way to convert sea water into fresh water is distillation. In common distillation, the sun provides the necessary heat. A piece of plastic covers a few centimetres of salt water in a basin, or open container. The water evaporates with the heat of the sun and the vapour rises until h hits the top. Then it condenses into fresh water. That is, it changes from the vapour state into the liquid state. Distilling water by this method is very slow.
For this reason, industry is now using an expensive variation of the distillation process. In this process,  boiling and condensation are combined. There is a disadvantage of all desalting methods: their high cost. The cost is high because all use a lot of expensive energy coming from sources such as coal, oil and gas.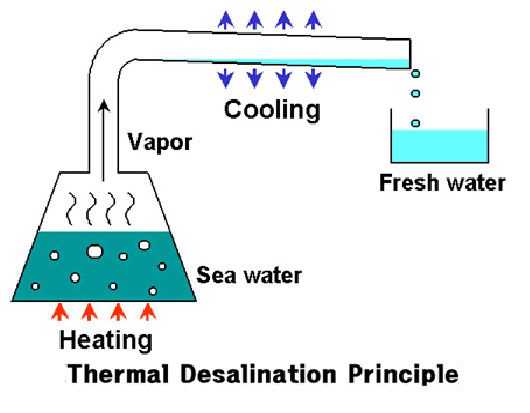 THE DESALINATION PROCESS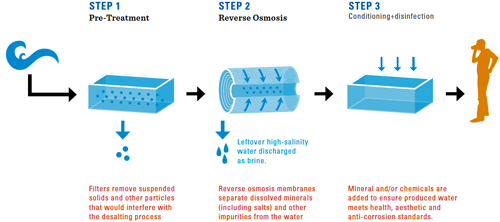 TREATED WATER
REVERSE OSMOSIS
QUESTIONS
A. What do the following refer to?
1. 'this water' (line 5):
2. 'this process' (lines 15-16):
3. 'it' (line 20):
4. 'it' (line 26):
5. 'all* (line 32):
B. Mark the best choice.
1. Line 20, to 'melt' means to become .
a) solid b) gas c) liquid
2. Line 22, to 'convert' means to .
a) change b) contain c) desalt
3. Line 31, a 'disadvantage' is a(n) point.
a) good b) bad c) important
C. Mark the statements as True (T) or False (F).
1. We can use electrodialysis to desalt very salty water.
2. The salt in the water does not freeze with the water.
3. We can use the energy from the sun to distil water.
D. 1. Why is water important for us?
2. What takes the salt out of sea water in electrodialysis?
3. What is not good in common distillation?
4. What are coal, oil and gas?