– MARGARET MEE –
Artist, adventurer, explorer, botanist and rain forest conservationist are some ways of describing Margaret Mee, a remarkable woman who spent the last 36 years painting the Amazon flora. In 1956, at the age of 47, the already accomplished artist made her first Amazon 15 expedition to observe, collect and paint the flowers of the region. Thus began a series of  expeditions, the last of which was in May of 1988, successfully to fulfill her dream to paint the flowers of the rare moonflower cactus that grows along the Rio Negro and flowers for only one night a year.
It was an inspiring sight to watch this frail-looking woman setting out on an expedition in a dugout canoe with only one Indian guide. She experienced many hardships and deprivations on expeditions but always returned full of enthusiasm and with many notebooks and sketches, as well as plant specimens to grow carefully in her home in  Rio de Janeiro until thev produced flowers to paint.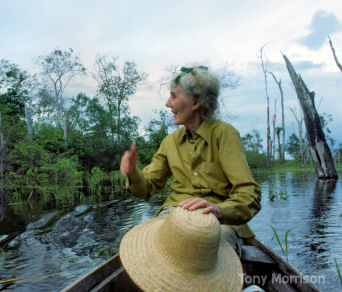 She was one of the greatest women explorers of this century. She became known beyond the botanical community and Brazil when, in 1968, she published a beautiful folio book of her paintings entitled 'Flowers of the Brazilian Forests' to be followed by another in 1980,  'Flowers of the Amazon'. Her paintings are distributed around the world in botanical institutions, private and public collections.
She fell in love with the Amazon ecosystem as she studied and painted its flora. However, the period during which she worked coincided with the time when the Amazon rain forest was being  destroyed. Consequently, Margaret Mee became ont of the leading defenders of rain forests and her recent lectures always had a strong conservation message, born out of a deep understanding of the complex ecosystem.
QUESTIONS
A. What do the following refer to?
1. 'the already accomplished artist' (line 4):
2. 'they' (line 15):
3. 'another' (line 19): another

B. Mark the statements as True (T) or False (F).
1. Margaret Mee is 47 years old.
2. The purpose of Mee's last expedition to the Amazon was to protect the nature.
3. Mee didn't have any difficulties on expeditions.
1. Why is it so difficult to paint the flowers of the rare moonflower cactus?
2. Why did Margaret Mee collect plant specimens?
3. What was happening Amazon?