– MISUNDERSTANDING –
One of those misunderstandings which sometimes occurs when the gasman comes to call has brought puzzlement and ultimate good fortune into the domestic lives of two Essex women. Mrs. May Bradbrook and Mrs. Brenda Kerr live in Alton Gardens, Westcliff-on  -Sea. Mrs. Bradbrook's home is number  and the Kerr residence is number . The difficulties began when Mrs. Bradbrook decided that the time had come to purchase a new cooker.
She placed her order with the North Thames Gas Board, but the official who took the details misheard her address.  Paperwork duly went through for the delivery and installation of a new gas cooker at number 14, Alton Gardens. When the gasmen arrived with it, there was nobody at home. They were relieved, however, to find a considerate note saying, "Key next door."
Mrs. Kerr was expecting a visit from the Eastern Electricity Board that day and had made arrangements for a neighbour to let them in. When the gas board appeared instead, the neighbour assumed that she had misunderstood Mrs. Kerr and handed over the key. The new cooker was installed and Mrs. Kerr's old one taken away. Shortly afterwards, an aggrieved Mrs. Bradbrook telephoned the gas board saying that she had waited in all day but the cooker had not come. Inquiries were started.
Meanwhile, Mrs. Kerr got home to find  the unexpected and gleaming appliance in her kitchen. Clearly, something was amiss but before Mrs. Kerr could get down to deciding how to sort it out, she had an urgent priority. She had to cook her husband's tea. There was no other appliance in the house, so she used the new cooker. The board, having heard from Mrs. Bradbrook and contacted its gasmen, was swift to realise the error. It assured Mrs. Bradbrook that there would be no further delay in getting the cooker to her.
After all, it had only to travel a short way up the road. But – Mrs. Bradbrook pointed out – it was no longer the new cooker she had ordered, was it? It had been used. The gas board saw her point and found that it also had a problem at number 14. It had assured Mrs. Kerr that her old cooker would be returned pronto. But it turned out that the cooker had been broken up for scrap immediately after it was taken away. Both women had clearly suffered 'some inconvenience,' as the board acknowledged.
The upshot of the affair is that Mrs. Bradbrook now has the cooker originally intended for her, but at a 20 per cent discount of £30. Mrs. Kerr has been given a reconditioned "good as new" cooker worth an estimated £350 to replace her scrapped one. And the North Thames Gas Board is some £380 out of pocket.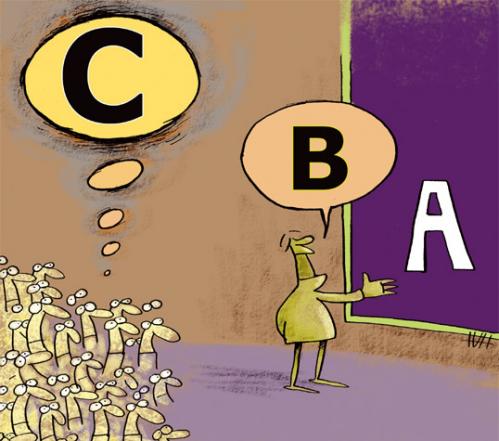 QUESTIONS
A. Mark the best choice.
1. Line 19, 'aggrieved' means .
a) upset b) confident c) tactful d) timed
2. Line 28, 'swift' means .
a) inquisitive b) gentle c) quick d) insensitive
3. Both Mrs. Bradbrook and Mrs. Kerr live in Alton Gardens and a mix-up occurred because .
a) Mrs. Bradbrook gave the wrong address to a gas board official
b) Mrs. Kerr placed an order for a new gas cooker
c) someone at the gas board took the wrong message
d) Mrs. Bradbrook went out to work leaving a message next door for the gasmen